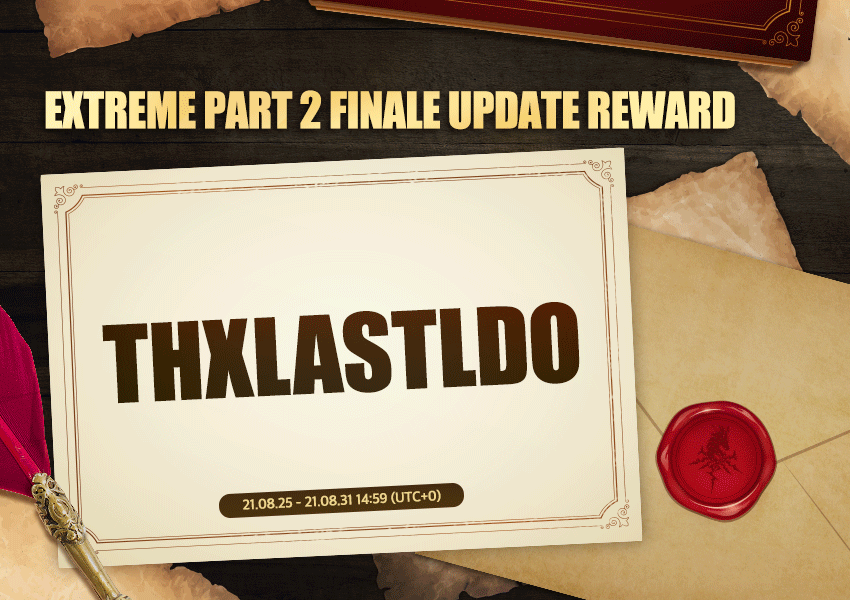 Greetings, lords around the world!
This is GM Varhya.

Special coupons have arrived to celebrate the recent update on the final story of Extreme Part 2. Please check out the list of special coupons below!
THXLASTLDO - Gold 1,000,000
valid until Aug 31, at 14:59 (UTC+0)
---
The coupons listed below will expire on Aug 29, at 14:59 (UTC+0). Please make sure to redeem the coupon before it expires.
LORD1000GO - Gold 50,000
ATLASTLORD  - 4-6★ Replica Chest x 1
LORDNLODIO - Crystals 300
TWOJHNLORD - Alchemy Tickets x 5
5000LORD - Renown 100,000
LAST6000L - Mystic Soulstone x 1
---
Plus, bonus gold coupons are available to accelerate your Heroe's level up!
LORDCOACH - Gold 100,000
valid until Aug 29, at 14:59 (UTC+0)
VOTE2VOTE - Gold 100,000
valid until Aug 25, at 14:59 (UTC+0)
---