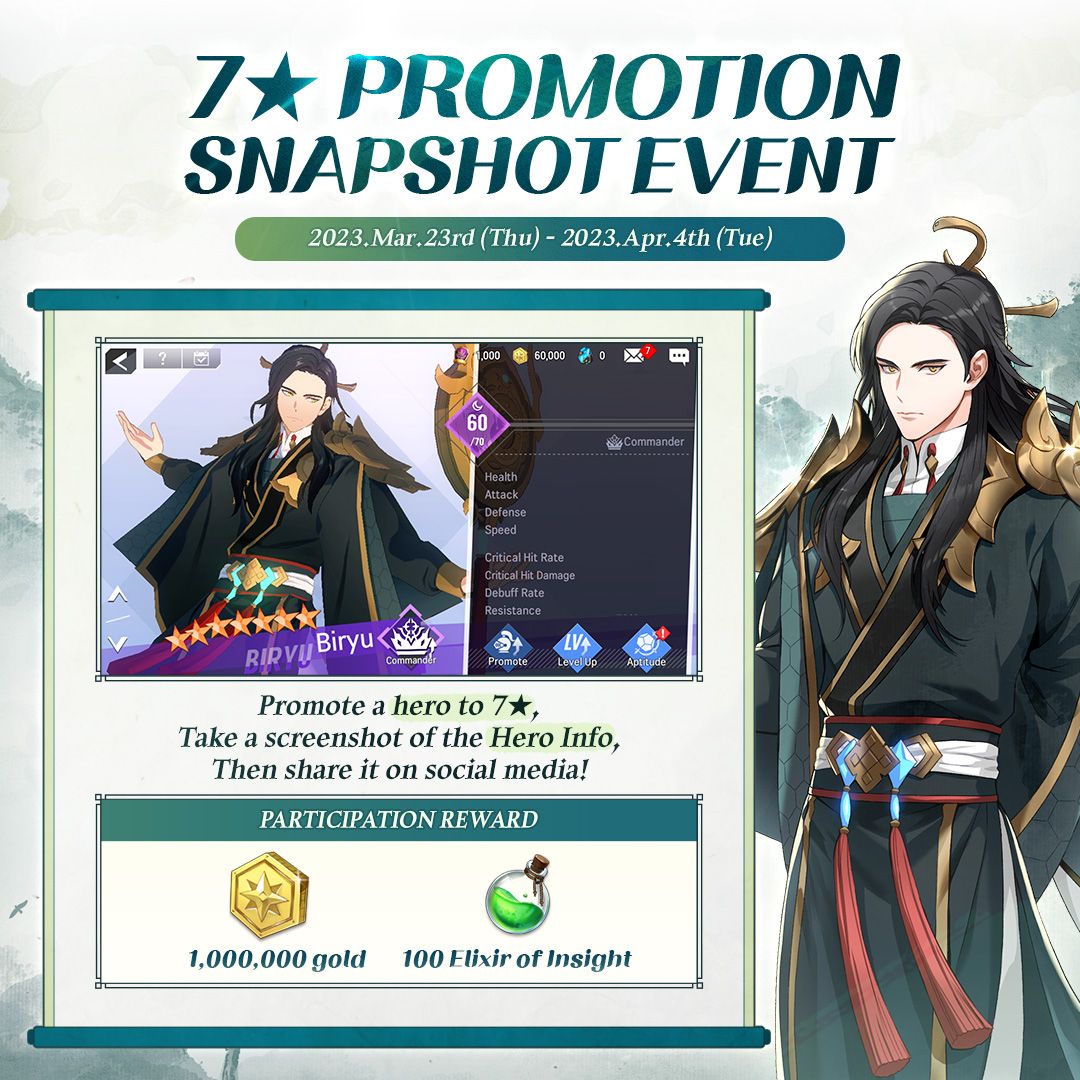 Together with Lord of Heroes' 3rd anniversary, 7★ Promotion will be updated.
Your heroes can now reach Level 70!

Strengthen your knights by promoting them to 7★
and share a snapshot on social media!

All Lords who participate in the Snapshot Event can receive rewards.

Check out the details explained below!
---
📌 How to participate
1. Take a screenshot of the Hero Info after you promote a hero to 7★.
2. Upload your screenshot on any social media with the following hashtags: #LordofHeroes #7StarPromotion
3. Register for the event using the link below!
📆 Event Duration
March 23rd (Thu) maintenance – April 4th (Tue) 14:59 (UTC+0)
🎁 Reward Payout
April 7th (Fri)
🎁 Rewards
- Participation Rewards: 1,000,000 Gold, 100 Elixers of Insight

🔔 Please Note
1. Your User ID can be found in the in-game Settings > Support.
2. Please set your post/account to 'public' when uploading the screenshot on social media.
3. There are no restrictions on which social media platform you may post the screenshot on.
4. In the case of multiple event submissions registered using one Lord of Heroes account, only the first submitted social media link will be counted and rewards will be given only once.
5. Participation rewards will be distributed after verifying the account data of Lords who have completed the Event Survey.
6. In case the account information is not verified due to incorrect data in the survey, the reward will not be distributed.
7. Rewards that are not claimed prior to their expiration date will not be restored or reissued.