Greetings, Lords around the world!

<2023 Outfit Contest: Avillon's Got Style> official website is now open!
Show off the outfit design you created! 🎉

Celebrate LoH's 3rd birthday together by submitting your masterpiece! 🎂✨
We hope to see lots of your talented works!
#LOH_3rd #AvillonsGotStyle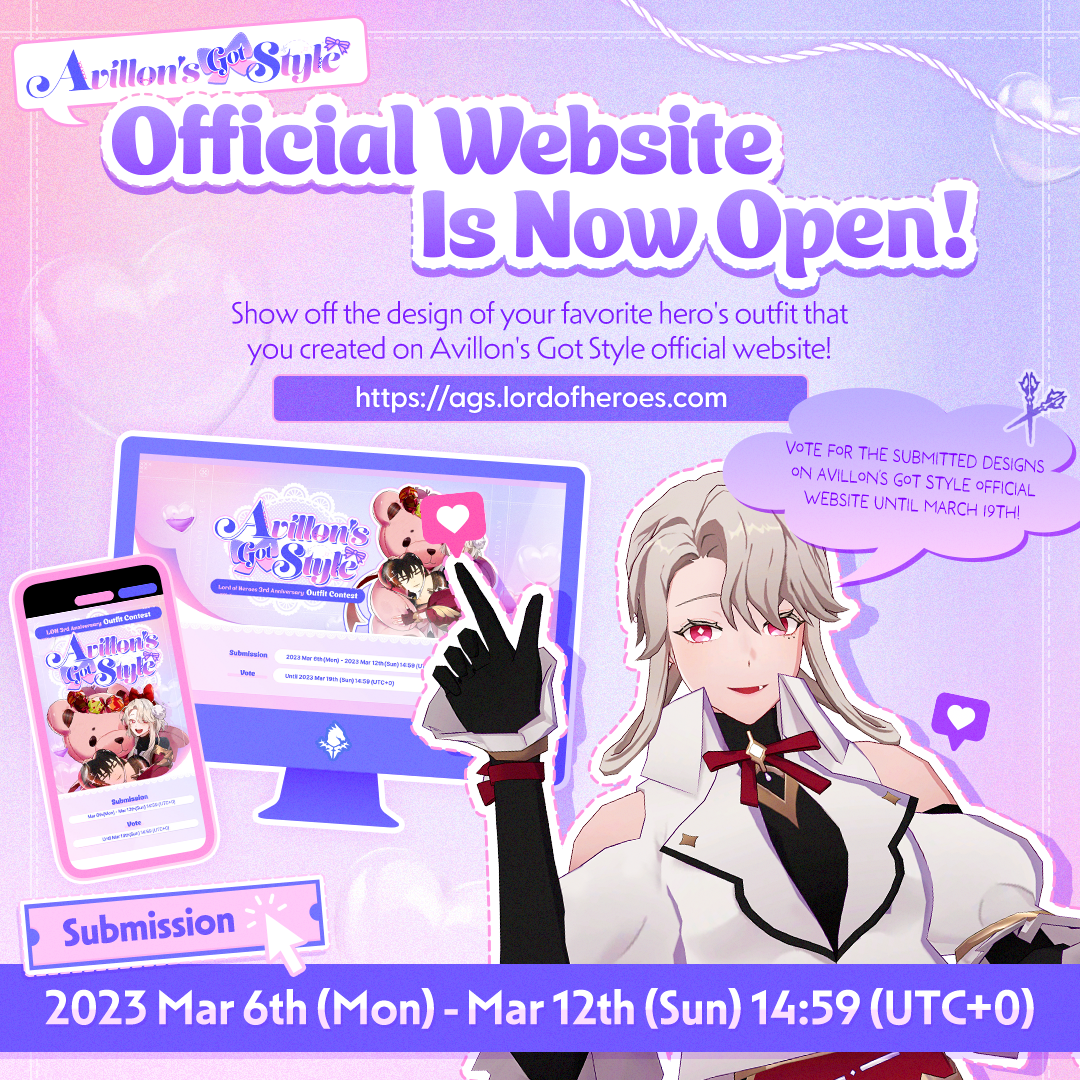 <Avillon's Got Style> Official Website link
▶ https://ags.lordofheroes.com
---
◆ Website Information
📝 Submission: 2023 March 6th (Mon) 03:00 – March 12th (Sun) 14:59 (UTC+0)
💌 Vote: 2023 March 6th (Mon) 03:00 – March 19th (Sun) 14:59 (UTC+0)
◈ Winner Announcement
2023 March 25th (Sat)
- Initial winners' announcements will be made on LoH's 3rd Anniversary stream!📡

◈ How to Participate
Design an outfit for '1 hero' according to the 'submission form' in the notice.
Log in to <Avillon's Got Style> website and click 'Sign Up' on the top right.
Remember to enter the hero's name with the title.
Submit the file according to the steps on the website and you're done!
◈ Please note:
Please login with your Google account to access <Avillon's Got Style> website.
Please note that the duration of submission and vote is different.
Please delete and reupload if you need to edit your submission.
The votes will be deleted as well upon deleting the submission.
Submission should not be involved in legal complications. The art must be an original creation by yourself. The submitter is solely responsible for any legal disputes arising regarding the submission.

※  Please check the official announcement of <Outfit Contest: Avillon's Got Style> for more detailed information.
▶Announcement