Greetings, Lords around the world!
<Lord of Heroes Creator Challenge Season 3>'s official website is now live!  🥳✨
Celebrate LoH's 1000th day with ! 🎉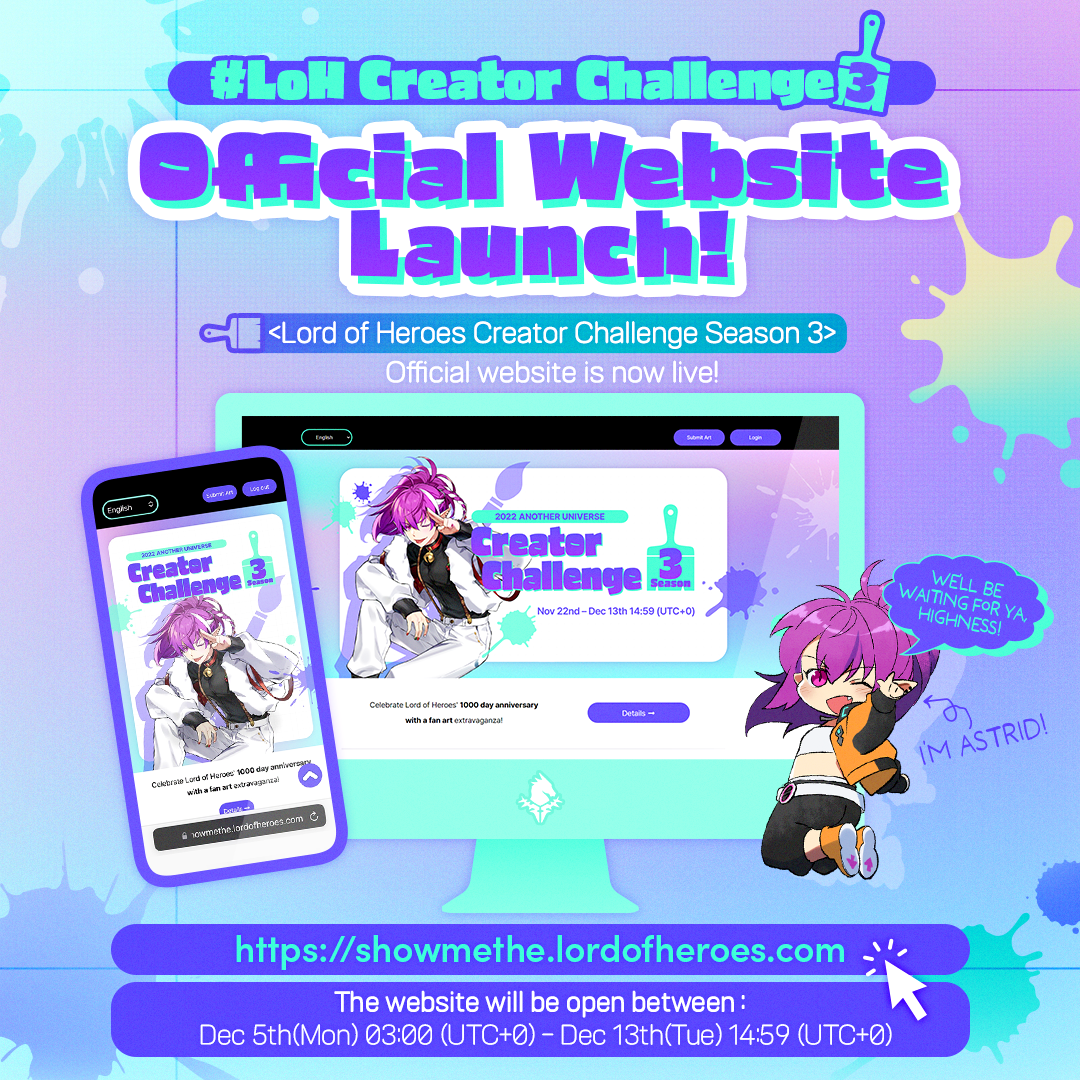 ---
◆ Website Information
The website will be open between Dec 5th(Mon) 03:00 (UTC+0) – Dec 13th(Tue) 14:59 (UTC+0).
◈ Winner Announcement
2022 December 20th (Tue)
◆ Submission Format
Either a portrait or a landscape image over 1000 pixels in PNG or JPG format. (Must be under 20MB in file size. No restrictions on aspect ratios.)
◈ How to Participate
1. Go to the Lord of Heroes Creator Challenge 3 website page through the link .
2. Click on the login button on the top right, and log in with your Google ID.
3. Click on the Participate button on the top right to access the participation page.
4. Enter your Submission Title / Lord name / USER ID / Submission Description / Email Address / Consent for collecting email addresses, and then upload your submission!
5. You can also check out other Lord's submissions on the website homepage! Make sure to hit that like button if you see something you like! 👍
◆ Please Note
- Submissions should not be involved in legal complications. The art must be an original creation by yourself.
- Submissions found to have participated via unfair means may be disqualified without notice.
- Please delete and reupload the submission if you need to edit your submission.
- If submission posts are deleted, likes on the post will also be deleted.
- Further details are on the Creator Challenge Season 3 announcement post on the official Lord of Heroes blog.