Greetings, Lords around the world!
This is GM Isola.
Due to an announcement from the Apple App Store published on September 19, 2022, the price of in-app purchases will increase in certain countries, including South Korea, Japan, and countries that use the euro, that we service.

Price change in App Store may apply on October 5th, an accurate time hasn't been announced by App Store yet.
We have decided to lower the price tier of certain packages to reduce the burden caused by the price increase of in-app purchases. But please note that not all countries are affected by this announcement from the App Store. Therefore prices may either increase or decrease depending on the countries where you live.
Also, we'll be changing the price of the Google Play Store for equity with the App Store. In return for price change, we will be rebalancing the composition of packages. The details for this will be included in the October 6th update details notice.
Please read below for pricing information and more details.
---
■ Changes in In-App Purchase Prices due to App Store Price Change
1. Details
- Price changes in certain packages due to App store price changes.
2. Effective Date
- After maintenance on October 6th
※This only applies to iOS; Please note! Price changes updated by App Store itself may apply on October 5th and might cause different prices to be charged on some packages until the maintenance begins. (This may vary depending on your country.)
※ This only applies to countries affected by the App Store Price Change announcement; If you purchase packages with the increased price applied by the App Store price change, price differences will be effective retroactively, and compensation will be given out later.
3. Price Change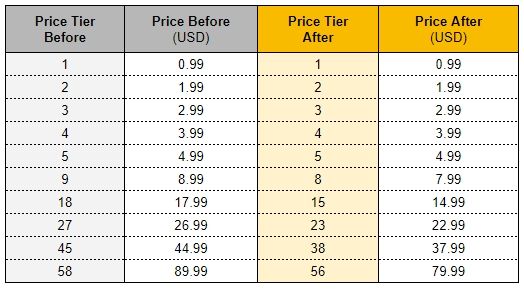 ※ Price chart includes all price ranges in the Shop currently.
※ Price changes in packages will apply to both App Store and Google Play Store.
※ Details of packages will be shared with October 6th Update Details notice in the future.
---
We apologize for the inconvenience caused by the issues above.
But, we kindly like to ask everyone to read all details of our price change plan, and the news announced by App Store.
Thank you.