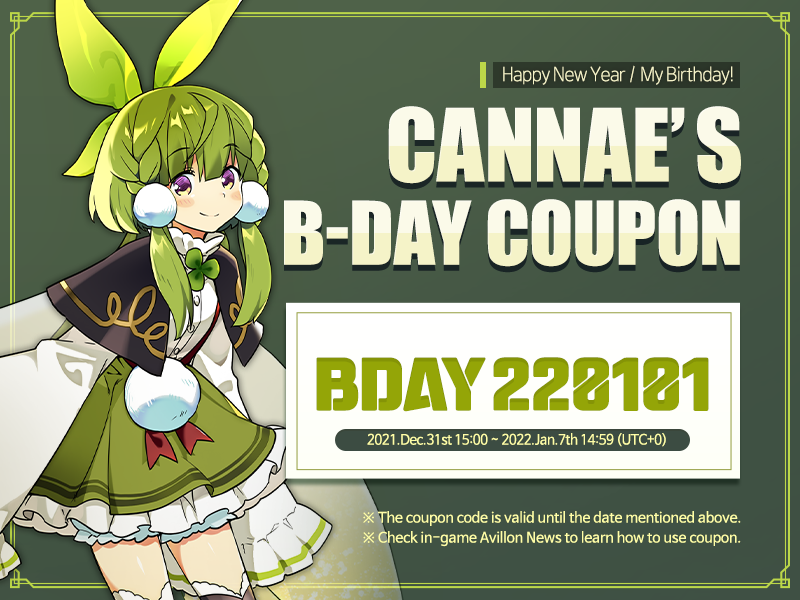 It's been a long year, hasn't it?
It was a year full of surprising new stories and a lot of fun things!

Even though it's a cold season, but since it's a New Year, also my Birthday, I bet this year will be full of more fun and happiness!

Like I said since it's my birthday, how about making wishes to me?
I'll grant your wishes for free! So feel free to make as many wishes as you want! So stay with me in the year 2022 as well! Alright?

Well then, I hope you have a Happy New Year!

- From. Avillon's Most Super Awesome Amazing Fairy, Cannae 🧚🏼

Ps. This is a coupon that you can use on my birthday! Don't forget!
Ps#2. I almost forgot! On my birthday, there will be a discount on upgrading your equipment! So, come and visit me to upgrade the equipment!
---
◆ Cannae's Birthday Celebration: Price Discount on Upgrading Equipment!
- Dec 31, 15:00 ~ Jan 1, 14:59:59
---
How to enter a coupon?
- Android : In-game [Settings] > [Support] > [Enter Code]
- iPhone : Go to [ Coupon Site ] with your Player ID found in the [Support]