Hello, Lords!
We officially greet the Lords as our first act of  taking over the batons of the First Avillon GMs, [Lumisade] and [Dakkeon].
Nice to meet you!!We, the second Avillon GMs [Varhya], [Rhodon], and [Isola], are nervous and excited to meet everyone!
GM Varhya: "I won't miss the Lord's story!"
GM Rhodon : "I'll always be careful and do my best."
GM Isola: "I may be inexperienced... but please treat me with care..!!"
[Avalon 2nd GM] We will listen to the Lord's voices and do our best to make Lord of Heroes fun every day!

Lords, please look forward to our time together with a generous heart!
---
Lastly, we reveal a gift that the previous GMs: [Avillon 1st GM - Lumisade and Dakkeon] have left behind!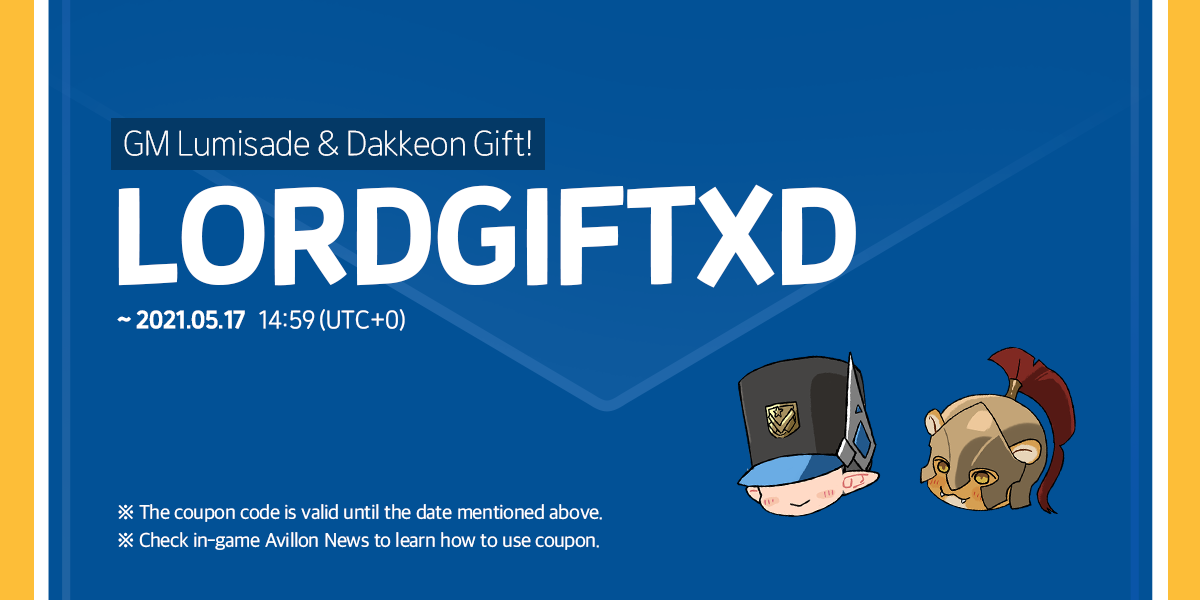 - Coupon code: LORDGIFTXD
- Gift Composition:
<Alchemy ticket 10 / Gold 300,000 / Energy 10000 / Mystic Soulstone 1>
※ This coupon will be available until 14:59 on May 17, 2021. (UTC+0)
※ How to enter a coupon?
- Android : In-game [Settings] > [Support] > [Enter Code]
- iPhone : Go to [ Coupon Site ] with your Player ID found in the [Support]
※ LOCAL time is your location(country) time, which was set when you created your account.
---
Please continue to love Lord of Heroes!
Thank you.

From 2nd Avillon GM 's.