Greetings, Lords around the world!
This is GM Isola.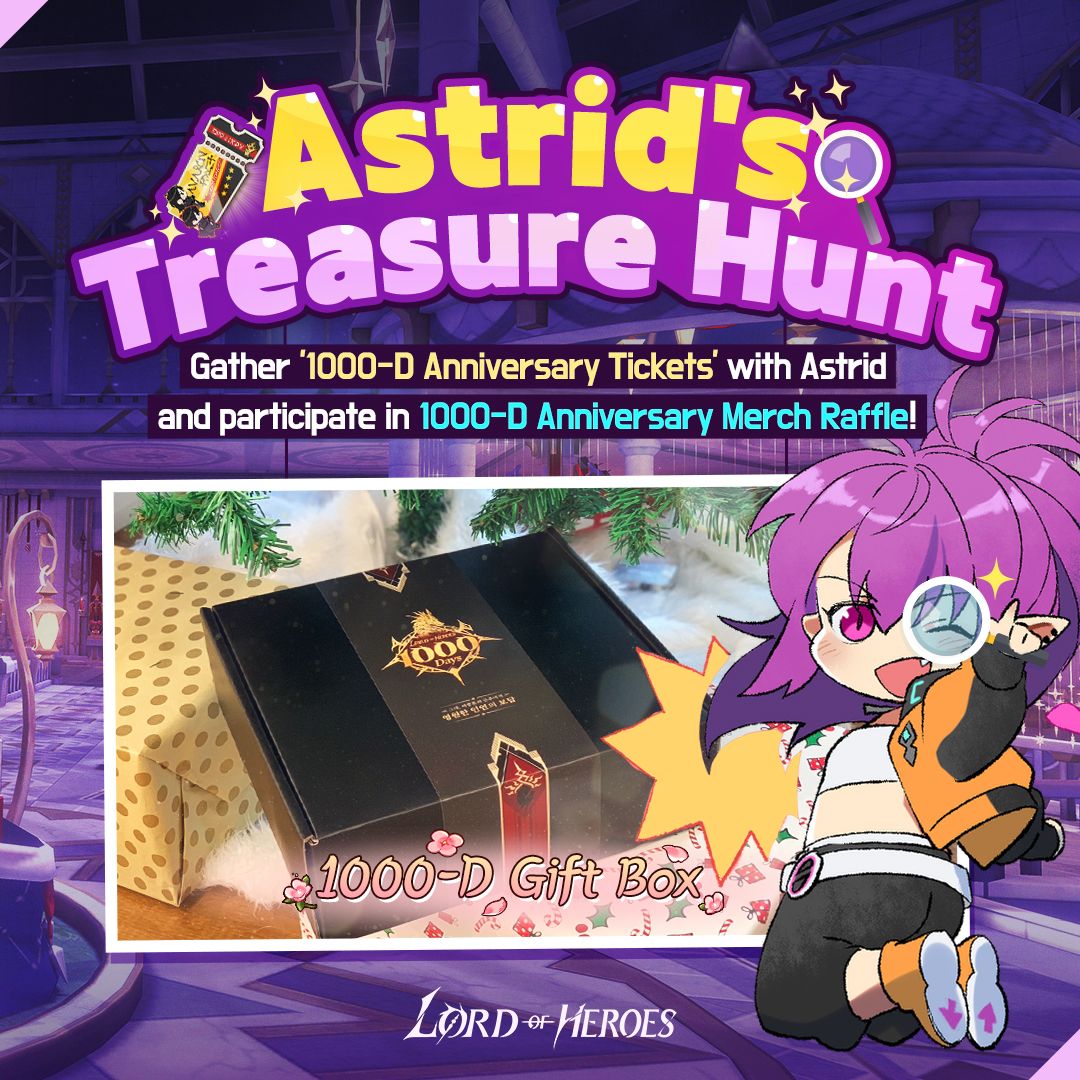 Astrid is hosting a Treasure Hunt event in Avillon!
And this time, a merch event will be held with it!

Merch delivery is only available for residents living in South Korea.
Winners residing overseas can receive in-game rewards as a compensation.

It has become difficult to deliver the merch directly to Lords residing in other countries. We apologize for the inconvenience.

※ Merch events may be participated from overseas in case you have an address to receive the merch within South Korea.

Please find the details below!
---
📌How to participate
1.Join Astrid's Treasure Hunt and explore Avillon!
2.Gather '1000-D Anniversary Tickets'!
3. Register your submission for the event after gathering an anniversary ticket using the link below!
※ The chance of winning is higher with the more tickets you collect!
📆 Event Duration
December 22st(Thu) 03:00 (UTC+0) – 2023 January 4th(Wed) 14:59 (UTC+0)
🎁 Event Reward
Lord of Heroes 1000 Day Anniversary Merchs or in-game rewards(TBD)
🔔 Please Note
1. 1. Please write correct User ID and Lord name in the survey to receive the reward.
2. Your User ID can be found from the in-game Settings > Support.
3. Please fill in your address in the survey for shipping.
4. Merchs can only be delivered to residents in South Korea.
5. Winners residing outside South Korea can receive in-game rewards as a compensation.
6. If you cannot receive merchs due to residing overseas, please select the in-game reward you wish in the survey.
7. Using other person's details to participate in the event may lead to disqualification.
8. All shipping will be proceeded after collecting shipping information. Shipping information that haven't been collected within the event period would be excluded.
9. Collected information will only be used for shipping purpose and will be deleted completely after shipping.
---
Don't miss out on the chance to win 1000th day anniversary merchs
in Astrid's Treasure Hunt event!

Thank you.