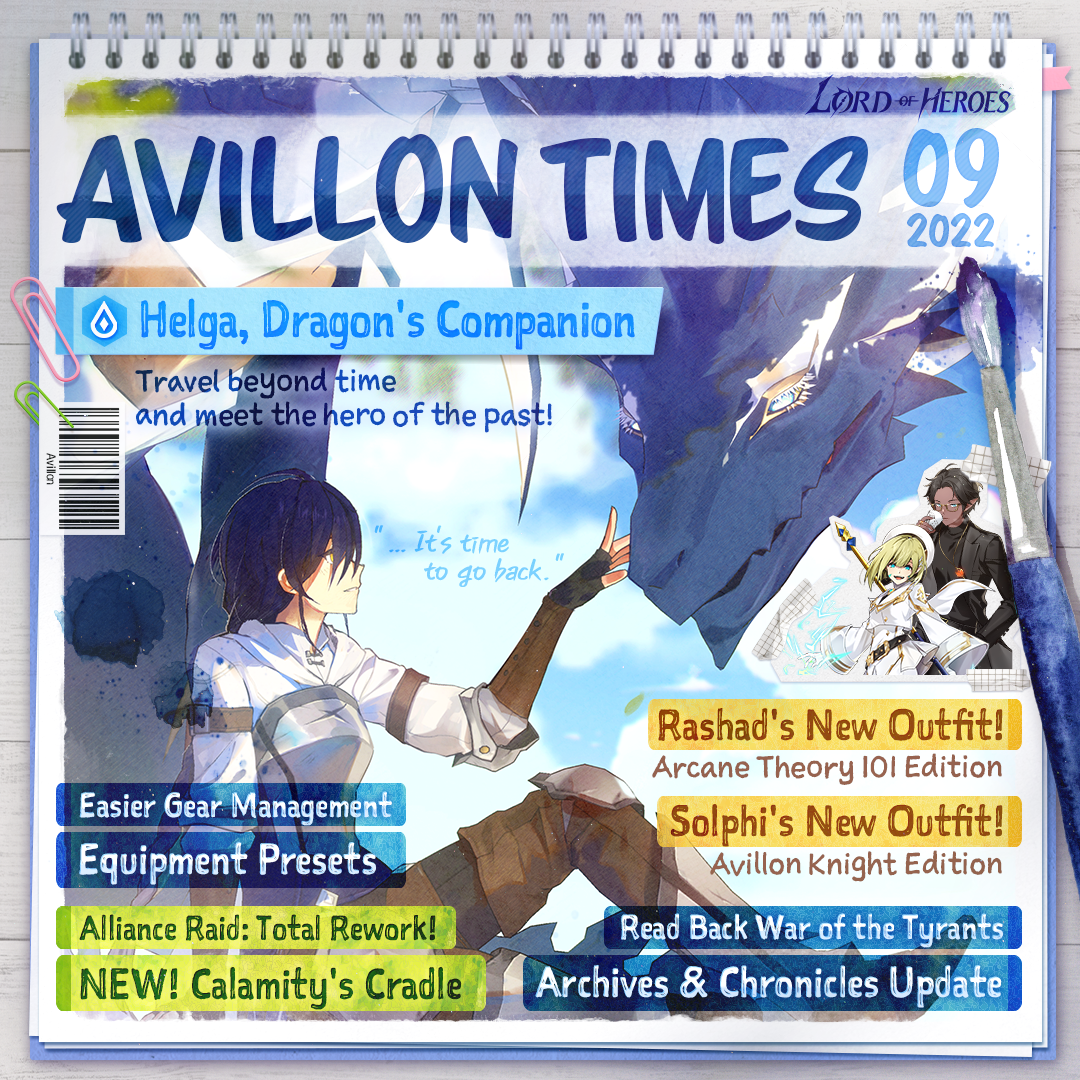 September Avillon Times is here!
Let's sneak a peek at what will happen in Lord of Heroes in September!
---
Meet the hero of the past!
Helga, Dragon's Companion has arrived!
✔️Easier Gear Management!
Equipment Presets will be updated!
✔️Alliance Raid: Total Rework!
NEW! Calamity's Cradle is coming soon!
✔️Rashad's Arcane Theory 101 Edition!
Prepare to meet Arcane Physics Assistant Professor Rashad!
✔️Solphi's Avillon Knight Edition!
Solphi's uniform costume will be launched!
✔️Need a place to watch War of the Tyrant back again?
Meet the records of 'War of the Tyrants' in the Archives & Chronicles!
The contents mentioned above will be available in the upcoming September updates.
Please stay tuned to the official blog and Facebook page for further details!
---
[ Avillon Time-sharing Event ]

◆ Period: Sep 1st – Sep 8th 14:59:59 (UTC +0)

◆ How to participate
Share the Avillon Times Facebook post with others!
◈ Rewards
- 1,000 Shares: Elixirs x 30
- 3,000 Shares: Energy x 6,000
- 7,000 Shares: Gold x 50,000
- 10,000 Shares: Renown x 50,000
- 15,000 Shares: Mystic Soulstone x 1
※ The total number of shares includes the official Global Facebook page, Korea Kakao Talk channels, and retweets on official Twitter Japan.
---
Visit the 'Museum of Memories' for the original images of the Avillon Times!