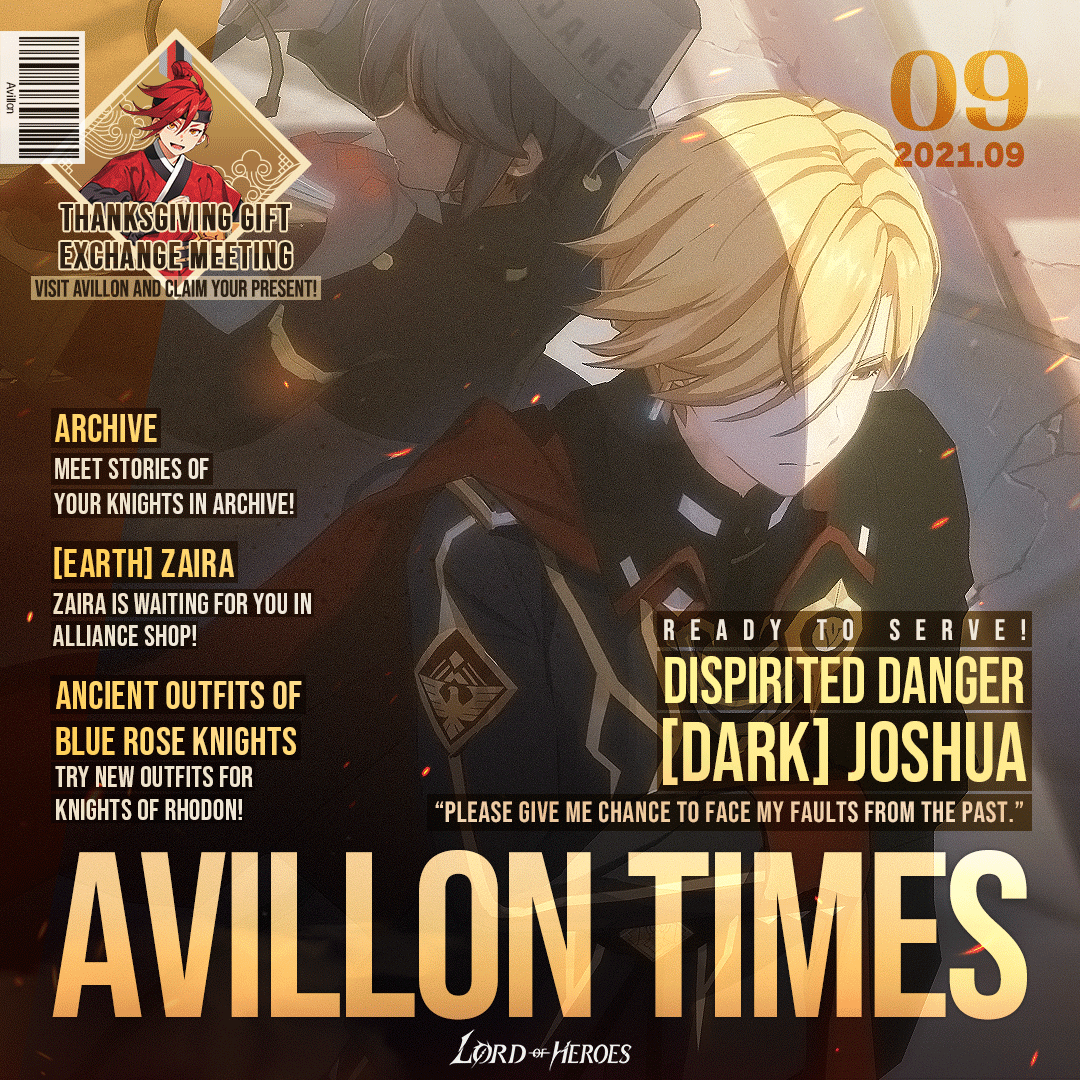 September Avillon Times is here! Let's have a sneak peek of what will go on on Lord of Heroes in September.
Dispirited Danger, [D] Joshua is ready to serve!
"Please give me a chance to face my faults from the past..."‌‌
✔️New feature: Archive
Meet stories of your Heroes in Archive!
✔️[Earth] Zaira is waiting for you in the Alliance shop!
Zaira who mastered fate came to serve you. Would you be the part of her fate, Lord?
✔️Krom & Zaira Ancient Outfits released!
Try new outfits for the knights of Rhodon.
✔️Thanksgiving Gift Exchange event!
Visit Avillon and claim various presents that Alev had prepared for you.
Contents mentioned above will be available in the upcoming September updates.
Please stay tuned to the official Blog and Facebook page for further details!
[ Avillon Time SNS sharing Event ]
◆ Period : Sep 1st – Sep 8th 14:59:59 (UTC +0)
◆ How to participate
Share Avillon Times Facebook post with others!

◈ Rewards
- 1,000 Shares: Elixirs x30
- 3,000 Shares: Energy x6,000
- 7,000 Shares: Gold x50,000
- 10,000 Shares: Renown x50,000
- 15,000 Shares: Mystic Soulstone x1

※ The total number of shares includes the official Global Facebook page, Korea Kakao Talk channels, and retweets on official Twitter Japan.
‌‌