Greetings, Lords around the world!
This is GM Varhya.
The Alliance Raid Hacking Prevention system added along with the Alliance Raid Renewal was malfunctioning and flagging normal gameplay. An improvement for the system was applied on May 25th  (Tuesday) 13:00 (UTC 0) to reduce the percentage of malfunction.
We sincerely apologize for the inconvenience you may have experienced while participating in the Alliance Raids.
To 178 players who weren't able to claim their raid battle reward due to hacking prevention system malfunction, the following compensation will be sent to their mailbox as an apology.
[Compensation Details] - 05/26 08:15 (UTC-0) Compensation complete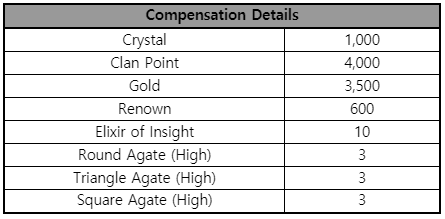 ※ If you have experienced same issue and haven't received our compensation, please register a inquiry through the customer support.
We apologize for the inconvenience,
and we will try our best for a better game service.

Thank you.
GM Varhya.